It has only passed less than 8 months since I decided to move to the hackintosh world.  I have loved every minute of the time and have not really missed all my hours of game playing. It has been a fair compromise, until now.
At Apple's WWDC (World Wide Developer Conference) this year several announcements was made in the direction of gaming that got my interest. First they talked about external graphics cards (GPU's). This is an area that has had my interest for some time.
Today the main component in a computer that you will most likely want to replace first would be your graphics card. This has not been really possible on the Mac since Apple decided to convert their only modular Mac into a "trashcan". Even before that it was complicated as Apple used another process to boot the computer (EFI) compared to a regular windows PC's that mostly used BIOS. So grabbing the best PCI graphics card and installing it into your Mac was not really generally be possible.
Steve Jobs had a thing for closed systems, he felt that a computer should not be extendable, therefore very few mac systems had expansion card slots.
Today it's another story thanks to the hackintosh community and users has build their systems with the components they like, i.e. graphics cards, network cards, thunderbolt etc.
This summer I've replaced my NUC with the latest (7:th generation) model based on Intel's Kaby Lake CPU. This one, compared to the one I was using previously has an Thunderbolt 3 port capable of 40 Gigabit/s speeds over a very thin copper cable.
External GPU enclosures mostly uses TB (Thunderbolt 3) and they support most, if not all current graphics cards. So in theory I should be able to connect a graphics card to an external GPU enclosure, connect that with thunderbolt 3 to my new Intel NUC where I've installed OSX Sierra and run my mac games at 4k resolution to my Asus 4k screen? Right?
Ohh pain, a lot of pain..
Building your own Hackintosh is not easy, perhaps if you select one of the "preferred" builds that, for example tonymacx86.com puts together you will have a better chance to get things working without major hiccups.
I did the same with my original NUC. However as the new NUC is based on a CPU architecture that Apple (as of starting building) did not support things got a bit more complicated. However I followed an excellent guide at tonymacx86.com that got me into the right direction. Just about the samt time I started to build my new Hackintosh Apple announced a few new Macbook/Macbook Pro/iMac's that was based on the new Intel Kaby Lake architecture and soon beta releases of 10.12.6 came out that included native support for both the CPU's and well as integrated GPU. Obviously as a nerd you need to try that, witch resulted in additional setbacks and more pain as you need to go thought what you should patch to tweak the hardware and what's now is currently supported "out of the box".  I'm not a hardware geek so troubleshooting is more about "trial and error" – Let's try to remove this boot argument and see what happens..
Finally I reached a point where I didn't have to "emulate" older chipsets that Apple supports, everything from CPU, GPU etc. where natively detected. One flaw however existed, the GPU OpenGL and "metal" drivers for my internal GPU (Intel Iris 650) was not working correctly. Some games did not start at all and for example Geekbench was not able to run some tests, or froze the program.
At that time I was already thinking about my next steps as the plan was to game on the new NUC, just like I've done on my previous PCs. So heading to Ebay and looking for external GPU cases. There are a lot of cases out there, some have official support for OSX, some works "anyway" and a few might not work at all.
I decided to try the AKiTiO Node for $279, mainly as this was still an experiment, as I didn't know if anyone managed to get it working with TB 3 on a Hackintosh. I've also looked into the Mantiz Venus, but that would have set me back $389 + $80 for express shipment (only option) total $469. It also seemed, based on a twitter conversation that Mantiz does not have import rights to EU, so I've would have had to pay import fees + taxes, yuk!
I could have waited for the Node Lite, that was in the same pricerange as the Node, and has daisy-chainable TB + Display Port. This is particular useful for the NUC as it only have one TB port and no dedicated DP (Displayport). DP is built-in to the TB port). Also daisy-chain is generally important as you want your eGPU to be the first device in the TB chain for best performance.
Instead I went for a Belkin Thunderbolt dock (Belkin Thunderbolt 3 Express Dock HD) that consists of two TB usb-c ports, one DP, Gigabit Ethernet, Audio and three USB 3.1 ports. It was hard to get but I managed to find it at the Apple Store in Stockholm. The dock itself was more expensive than the eGPU enclosure, not the best deal (And shopping at Apple Store was one of my worst experiences ever)
So now it was time to start playing. I'm not going to cover the actual installation in this blog post but I wanted to make sure things where working fine so I've installed Windows 10 (after installing OSX) and all the drivers for the NUC, including the TB drivers. While at it I also updated the firmware on the AKiTiO Node as I've did read that was a requirement for the Node to be identified by OSX.
Windows worked great! I was able to play all my favourite games like Battlefield 3&4, Mafia III, Hitman to name a few. Quite impressive by the NUC. Next up was to try the eGPU on a real mac. Luckily I had two MacBooks at my disposal with usb-c, however my MacBook 12″ does not have a TB interface so I've ended up with my MacBook Pro 13″ (late 2016) and tried the Automate-eGPU.sh script. First I ran into issues as I'm dual-booting with High Sierra, where Nvidia have not yet released any drivers. After switching to Sierra things worked like a charm and my 4k Asus screen lighted up with the OSX login screen. Success!
The experience where quite enjoyable, being able to run Valley or Heaven benchmark's in fullscreen, 4k was something I've never done before. Now it was time to deal with the hackintosh.
My initial setup worked fine, my hackintosh booted up with the login-screen. However graphics was not accelerated, and in OSX that's a bad thing as most of the GUI requires hardware acceleration due to how the graphics is rendered. So I've started downloading NVDIA OSX drivers, they call them "web driver" as they are downloadable and not part of the OSX shipment as most other drivers are. This is a result of the closed system approach, you don't need drivers for a graphics card that was not shipped with your computer. However thanks to older Mac Pro's that's not the case as you can replace your graphics card.
It's a nice gesture from NVIDIA to include drivers to most their cards. In my case my GPU was an old GeForce GTX 980 Ti (Released in 2015) that is the almost last card with the Maxwell architecture (Titan X was the last).
But after installing the drivers and rebooted the system my screen was black, really black.. However I did managed to remotely login thought VNC and noticed that the card and driver was active. Good!
After a few hours of investigating with different boot options and clover settings I've discovered that my iMac Profile SMBIOS profile was the cause of the problems, at least that's my theory now. As some mac models do have dual graphics cards like I have (Built in graphics in the CPU and external graphics) the Nvidia drivers configure their display ports (HDMI, DisplayPort etc.) according to the hardware "spec" of that Mac model. That's one of the disadvantages when you want to "emulate" a real mac as much as possible (to make it more compatible).
So I've had to downgrade my 18,2 iMac to an 14,1 (That has long been the "base" model most Hackintosh users use). Finally my graphics works and I'm able to write this blog post with my eGPU connected to my display.
For some reason my BT (Bluetooth) dongle stopped working after switching SMBIOS profile, not sure if it's released to the above change, or something else. However my Apple BT keyboard is not working wirelessly (USB works) – Perhaps I just need to find an Apple model that works both with my keyboard and my eGPU.
Computers are fun 🙂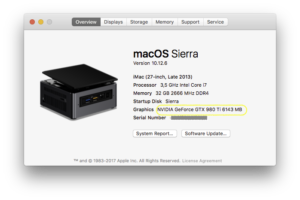 Direktorn Comments
comments